Sono nata e cresciuta in Ticino e dopo il liceo linguistico sono partita per Londra per seguire il mio interesse per il mondo del trucco. Al Cavendish College, dove ho appreso i vari  tipi di trucco (beauty, fashion , teatro, effetti speciali, acconciature, face painting) ho scoperto per la prima volta quanto diventa facile fare qualcosa se ami davvero farla,ottenendo il diploma col massimo dei voti nel 2001.
Dopo aver lavorato nel mestiere per sette anni a Londra, ho deciso di trasferirmi a Cape Town in Sud Africa, dove ho avuto la possibilità di approfondire ulteriormente la mia pratica professionale nelle diverse realtà produttive, prestando i miei servizi di make-up artist nel campo della fotografia, del film, della televisione, della moda e lavorando  per numerosi clienti internazionali.
Questo lavoro si traduce per me in una grande passione. Mi piace il lato creativo della trasformazione fisica, come pure la possibilità di fare parte di un team professionale per ottenere un risultato di altissima qualità.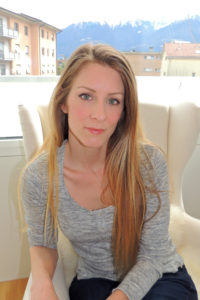 I 'm originally from Ticino and after having studied languages, I went to London to pursue my interest in make-up. In 2001 I got my diploma in make-up artistry at Cavendish college and while learning about the different types of make-up (beauty,fashion, theatre, special effects, hair styling, face painting) I discovered how easy somerhing becomes when u love what you do. After having worked in the industry for seven years I decided to relocate to Cape Town, South Africa, where I had the opportunity to further broaden my work experiences working alongside many international brands and being part of various photography, film, fashion and tv productions.
My job is also my passion, I love the creative side of it as well as being part of a professional team, always striving for high quality.
Pubblicità/ Advetising

Lenor (F)

Fila (I)

Coca-Cola (ZA)

Swiss Post (CH)

Lufthansa (D)

Richelieu (F)

Veet (UK)

Mont Blanc (CH)

Nestle (CH)

Virgin Mobile (UK)

Baileys (ZA)

Cancer Research (UK)

National Lottery (UK)

Opel Corsa(ZA)

Lovable (UK)

Alpro (UK)

Harley Medical (UK)

M-Net (ZA)

Sissy Boy Jeans (ZA)

Old Mutual (ZA)

Redds Cider (ZA)

Hunters Dry (ZA)

Klipdrift (ZA)

Santam (ZA)

Engen (ZA)

LA Fitness (UK)

Primero Cosmetics (UK)

Knecht Lingue (CH)

SUB Couture (UK)

Club Com (UK)

Maya Peters Fashion (UK)

 

Riviste/ Magazines

Schweizer Illustrierte Style (CH)

Chérie Sposa (I)

Rosebuzz Magazine (F)

Mirage Magazine (UK)

Marie Claire (ZA)

Elle (ZA)

Oprah Magazine (ZA)

Men's Health (ZA)

Woman's Health (ZA)

Healthy Magazine (UK)

Shape (ZA)

Cat Alley (DE)

Fair Lady (ZA)

Femina (ZA)

Visi (ZA)

Wedding Album (ZA)

Continental Bride (UK)

Real Simple(ZA)

House & Leisure (ZA)

Cleo (ZA)

Top Billing (ZA)

Essentials (ZA)

News of the World (UK)

You Pulse (ZA)

True Love Babe (ZA)

Seventeen (ZA)

Love Magazine (UK)

Girl about Town (UK)

TV

Germany's Next Top Model, Pro7 (D)

Top Billing, SABC3 (ZA)

Zee TV Asia Live (UK)

Casino – Casino, LWT (UK)

Fitpro (UK)

Negozi/ Retail

Manor (CH)

Ackermans Kids (ZA)

Foschini (ZA)

Pick n Pay (ZA)

Mr. Price (ZA)

Exact! (ZA)

Woolworths (UK)

Truworths Man (ZA)

Hip Hop (ZA)

Pubblicità TV/ TV commercials

Manor (CH)

Yoplait (F)

Geox (F)

M&M's (F)

Taft (DE)

Nivea (UK)

Europcar (ZA)

Littlewoods (UK)

Heineken (NL)

Kodak (UK)

Cataloghi/ Catalogues

Quelle (D)

Witt Weiden (D)

Jako-O (D)

C&A (D)

Gimo (F)

Klingel (D)

Sfilate di moda/ Fashion shows

Mela Makeup Show, Birmingham (UK)

23 1/2 Days of Bollywood, London (UK)

Star Divali Show, Wembley Arena (UK)